ELECTRONICS and COMMUNICATION ENGINEERING
Our department of Electronics and Communication Engineering has a distinguished faculty panel who has an affluent blend of both industry and academic experience. They constantly disseminate and impart applied knowledge to the young minds through our mentor-mentee system.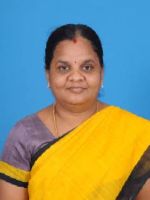 Dr. P. Gnanasundari
Professor & HOD
The ECE Department is keen in developing the fundamental, analytical and communication capabilities of the forth coming engineers. The department is equipped with full furnished laboratory, adequate classrooms with LCD Projector and department library. Great strides in achieving technical excellence and has won noted acclaim for its exemplary standards in all fields. The Electronic Devices and Circuits, Communication, Microprocessor, Digital signal processing, Microwave, Electronic system design, Linear integrated circuits, VLSI, Computer Networks and Embedded laboratory are the well equipped laboratories.. The department is supported and guided by well qualified faculty members.